Dermapen and Dermarollers
Dermapen and Dermarollers
What causes skin aging?
According to modern science, cellular damage to DNA is one of the main causes of UV radiation, harmful chemicals, air pollution affect the skin as an external factor, and free radical attacking is the most important internal factor. To delay and prevent aggressive skin aging processes, external treatment is not enough and we need to deal with internal cell regeneration. GENOSYS's concept and system offers a basic solution for skin anti-aging processes. Traditional cosmetics can not effectively remedy and prevent skin aging, but now GENOSYS has finally opened a new way in aesthetic medicine, introducing a well-established and powerful skin regeneration system that rebuilds, regenerates skin, restores health and vitality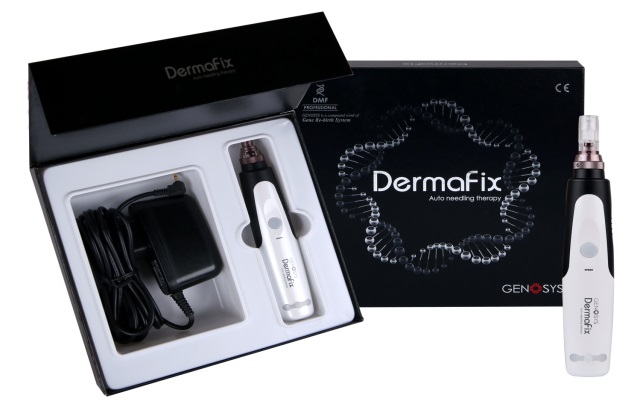 The roller forms over 500,000 microchannels on the skin for 5 to 10 minutes, penetrating deep through the epidermis barrier, which most inhibits the absorption of the active substances. The active nanoparticle-sized active ingredients thus introduced also reach deep-seated cells, much more efficiently than in surface application. Numerous micro-transcellular injuries, healing and regeneration processes are initiated, so collagen production is naturally accelerated in both dermis and basal layers. Treatment areas: - eye treatment - facial treatment
Neck - décolletage treatment - Strip treatment
DTS Dermarollers
A new concept for natural enhancement of the collagen production of the dermis layer An innovative intradermal system that delivers active cosmetic ingredients to the deeper dermis layer and stimulates natural collagen production by launching wound healing processes. Microstructure technique Needle rolling can be an alternative to laser skin renewal in patients who can not undergo laser surgery or seek less invasive, less attractive, risk. Traditional skin regeneration treatments are generally expensive and invasive, eg. deep cleansing or laser technology. In some cases, unfortunately, they produce uneven or frustrating results. Needle rolling offers a safer alternative to reduce wrinkles, improve acne scars, pigmentation and streaks.